LIKE HelloBeautiful On Facebook!
Tyra Banks Hits The Big 4-0: Here's The GIFS To Prove It was originally published on hellobeautiful.com
1. A Young Tyra
Giving you fever with a simple turn.
2. Tyra's Known To Be Crazy
And there's nothing I love more than her over-dramatics on her modeling reality show, "America's Next Top Model."
3. What What!
4. Tyra Can Even Make Rollers Look Hot..
Or nah?
5. If Tyra Put You Under A Spell…
What would you do?
6. Hey Tyra, Are You Happy To Be 40?
Oh.
7. Tyra's Smize
Look closely.
8. Don't Cry Tyra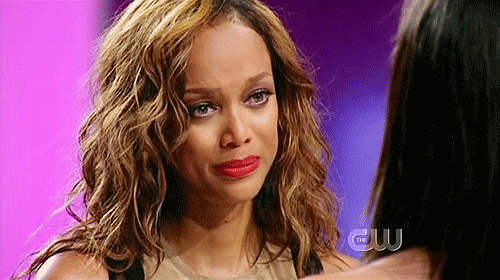 40's not so bad.
9. Actually Tyra…
I do.
10. Hey Girl Hey
Learn to wave from Tyra's example.
11. There's A Difference…
Between this and this.
12. Hey Tyra…
Thanks for the words of encouragement.
13. Tyra Just Realized 40 Is Not The New 20
Oh no!
14. Tyra Does Not Approve
So get your life together.
15. Tyra's Biggest Fan
Helps her keep her cool.
16. This Is How You Kiss
According to Tyra Banks.
17. Word Of Advice From Tyra
Keep your eyes on the prize!
18. No Really…
Keep your eyes on that damn prize!
19. One Word Hunty…
FIERCE!
20. Tyra's A Teacher
Have you learned anything today?
21. Shhhhh
Tyra's not amused.
22. All My Single Ladies!
Whoa uh ohhhh!
23. One Snap
For the children.